Following Inquisitor Athena's brave intervention at the Battle Sisters' preceptory in the last mission of our ongoing campaign she has now consolidated her position in this facility and will be using it as a staging post for future tasks.
Athena has been able to gather around her the few survivors of the last encounter along with a small number of reinforcements who have joined her from her starship in orbit, these include Inquisitorial Operative XV98 who was wounded and forced into a coma way back in mission one.
Here is the latest briefing issued to the Inquisitor in preparation for her next mission to engage and destroy the genestealer cult operating on the world of Logan's Bluff... Battle Report to follow shortly!
Inquisitor Athena and the Loganite Rebellion: Episode Three – Aquila Down
Following the recent operation to relieve the Sisters of Battle at the isolated preceptory Inquisitor Athena is now consolidating her forces within the compound for future tasks.
She has been approached by the surviving Sororitas and they have informed her that more of their sisters are currently engaged in combat training in a remote area of the planet. Unfortunately due to solar flares the preceptory has not been able to establish communications with this detachment and so a messenger will need to be dispatched in order to link in with these assets.
The Inquisitor decides to lead a small team of soldiers to make contact with these additional Battle Sisters and update them about the increasing level of Genestealer activity on the planet.
The Inquisitor's planetside forces have recently been joined by Inquisitorial Operative XV-98 (having recovered from the injuries he sustained during the first campaign mission) and his retinue of 10 Storm Troopers.
The preceptory is a formidable military compound and as such forms an excellent temporary headquarters for Athena and her allies and thus she is acutely aware that this foothold needs to be garrisoned in her absence. With this in mind she splits her forces down the middle.
She will lead a force of 2 Battle Sisters and 5 Storm Troopers on the liaison mission whilst XV-98, Sister Schwaznegger and the remainder of the troops will remain as a guard force within the preceptory. The guard force have also been tasked with trying to establish communications with any other Imperial forces in the system who may be able to lend support to Athena's ongoing operations.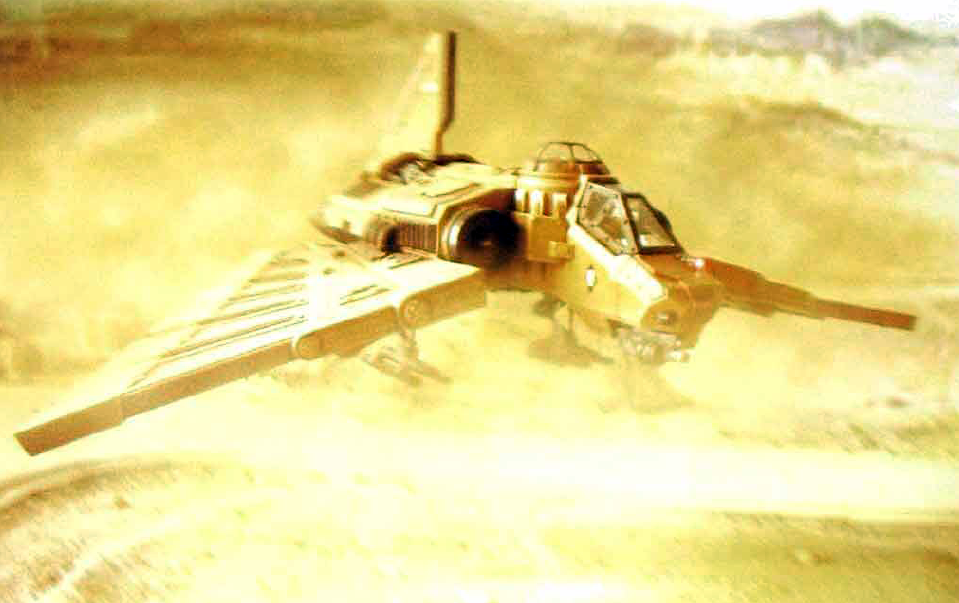 During the flight the Inquisitor turns her mind to the future of her operations on this world; according to Sister Schwzenegger there may be up to thirty novitiate Battle Sisters training to the south of the preceptory. If she is able to secure their support then a force this size would give her a real chance of eliminating the threat posed by the Genestealer horde before any further damage is done to Logan's Bluff…
'Warning; Warning…Lock on detected! Warning; Warning… Lock on detected!'
Her ruminations are shattered by the automated voice of the ship's on-board cogitator blaring through the passenger hold. She feels her stomach lurch as the shuttle engages in evasive manoeuvres to escape the unseen threat; after a moment she regains her composure and activates her vox-bead,
'What's happening pilot?' Her inquiry is met by a burst of static across the vox, before being replaced by the voice of her pilot a few moments later.
'Ma'am, we have been engaged by ground forces, identity unknown. They seem to be armed with heavy…' His voice disappears as the sounds of a large explosion rip through the shuttle.
'Throne no! Inquisitor we have been hit…our primary engine is gone…I… I am bringing us in for an emergency landing. All hands, brace for impact!'
These consist of Inquisitor Athena, 5 Storm Troopers 2 Battle Sisters and 2 Flight Crew. Profiles are as follows:
Equipment: Lasgun, Las Pistol and Knife (1 x Flamer)
Armour: Power Armour (upgraded)
Equipment: Boltgun, Bolt Pistol and Knife (1 x Flamer)
| | | | | | | | | | | | |
| --- | --- | --- | --- | --- | --- | --- | --- | --- | --- | --- | --- |
| M | | | | | | | | | | | |
| | | | | | | | | | | | |
Armour: Flak Armour (Saving Throw of 6)
Equipment: Lasgun, or Las pistol and Chainsword
Inquisitor Athena (Randomly generated in previous scenario)
| | | | | | | | | | | | |
| --- | --- | --- | --- | --- | --- | --- | --- | --- | --- | --- | --- |
| M | | | | | | | | | | | |
| | | | | | | | | | | | |
Equipment: Plasma Pistol, Bolt Pistol, Power Maul (Axe)
Psyker – Level 4 Mastery: 40 Psi Points
Hammerhand - Level 1 Ability (2 Psi-Points)
Aura of Resistance – Level 1 Ability (2 Psi Points)
Mental Bolt – Level 2 Ability (4 Psi Points)
Change Allegiance - Level 4 Ability (8 Psi Points)
At the start of the game Inquisitor Athena and her troops have just emerged from the wreckage of their transport shuttle and so are dispersed around the burning carcass of this vehicle.
In this mission your only objective is survival, you have been brought down by enemies unknown in a hostile area and have minimal resources to keep you alive.
Good luck and May the Emperor be with you.