Having done a quick skim of my recent posts I realised that it has been a while since the noble Inquisitor Athena (my girlfriend's 40k alter-ego) has had a decent investigation to get her teeth into. Not wanting the pride of the Emperor's own Inquisition to be sat twiddling her thumbs I decided to rectify this situation by creating a Rogue Trader scenario for her to get involved in.
After scouring the original 1987 rulebook and the 1991 RT: Compilation I came up with the seeds of a mission that would fit perfectly with the Inquisitor's unique set of skills and should provide an interesting game.
It seems that a small religious cult has been garnering support on a nearby mining-planet, usually this wouldn't interest the agents of the Inquisition as it is down to local planetary forces to keep the peace but sources have reported that recently the cult appears to be arming and training its members... surely this sort of activity warrants a closer look from the Imperium's most covert protectors.
I could have just left it at this brief intro, but instead I decided to provide my partner with a full briefing and play sheet in a similar style to that found within the RT Rulebook. It is a lot of effort to write up one of these, but I really think it makes a tangible difference and goes a long way to immersing the players in the setting.
I carefully worked out the forces that were going to take part so that they would provide a fun but challenging game that would allow more than one possible route to claiming victory. Athena's stats had been generated by rolling on the respective hero charts some time ago (very old school), but I amended these slightly by giving her psionic powers as I felt an Inquisitor of her standing should be endowed with suitably impressive skills in this particular arena of warfare. As such I made her a 4th Level Psyker (the highest available) with 40 Psi Points. I've rarely used psyker abilities in RT before so it would be interesting to see how these affect the game....as from past experience I am well aware they can end up dominating games of Second Edition.
Athena's efforts would be supported by an Inquisitorial Operative with fairly impressive minor hero stats who could act as a sub-commander for her troops. The bulk of her forces would be formed from Inquisitorial Storm Troopers who were given slightly above average human characteristics and equipment.
Athena would not know the forces that opposed her or their motivations until she finally met them on the field of battle which added a nice air of mystery to the proceedings.
Here is a copy of the briefing and errata that she was provided prior to the commencement of battle:
Inquisitor Athena and the Loganite Rebellion: Episode One - Investigations and Discoveries.
After a long hiatus from frontline service due to additional duties within the Inquisition the noble Athena has now returned to her relentless pursuit of deviants and scum active within Imperial territory. Within a few weeks of her re-assignment to active duty it appears that her first case is bearing fruit and she has assembled a team to take this investigation further.
Initially she had been assigned to review information regarding a local cult which has been active on the small planet of Logan's Bluff just outside the core worlds. The planet itself is a small industrial world with an extensive network of cities based around the core industries of mining and mineral refinement. The world is predominantly compliant and is fairly pro-Imperial with a heavy Ecclesiarchy presence in its three main cities; as such the appearance of any new cult or religious group is likely to draw Inquisitorial attention. Usually this attention would be limited to a brief Inquisitorial review but Inquisitor Athena has noticed something within the missives that has drawn her interest.
This cult, which ostensibly appears to be a sub-sect of the official Imperial Religion, seems to have gained a large degree of power and dominance far too quickly to have done so without some form of nefarious backer. Additionally recent intelligence indicates that low ranking cult members have been seen carrying weapons and engaging in paramilitary style training at various outposts across the world. This would seem to be a strange activity for an organisation that preaches peace and brotherhood to be engaged in. A further concern is the fact that the upper echelons of the cult are rarely seen in public, and a large number of their key leaders remain all but unknown to Imperial authorities.
An organisation with unknown leaders, armed personnel and a shadowy agenda is clearly something that Athena would like to find out more about, especially given the proximity of Logan's World to various alien empires and Chaos related anomalies. Athena's instinct tells her something is wrong with this insidious organisation, she just can't quite tell what it is…but she is determined to find out the truth. With little hesitation she requisitions a unit of Inquisitorial Storm Troopers to accompany her and embarks upon her sleek gun-cutter, 'The Cow of Destiny.'
With her forces assembled and her ship prepared for a covert approach the noble Inquisitor makes best speed for the planet in question for she is aware that every hour that passes is time in which her foe is able to further conceal its activities.
Upon arrival in system her ship heads towards
Logan's Bluff
broadcasting false identity markers allowing it pose under the guise of a merchant vessel. Drifting towards the planet at a steady pace Athena is able to establish a secure communications link with one of her informants operating on the planet. He confirms that the cult, now identified as '
The Children of the Star God
' has continued to expand its influence within the region and that it now has substantial holdings across the planet, particularly amongst the working class areas where poverty and desperation provides the organisation a fertile recruiting ground. He has also confirmed that the cult has continued to arm itself at an exponential rate and that this now includes heavier weapon systems as opposed to just the simple small arms previously encountered. The cult's commanders still remain hidden and as such Athena's operative has been unable to uncover further information about their identities or whereabouts.
Athena is never one to settle for second hand information and quickly decides that she wants to speak to her operator in person and also to observe the cult's activities for herself. She arranges a meeting with her operative on the outskirts of a derelict monastery on one of the planet's smaller sub-continents. The location itself seems unremarkable however it has seen a lot of cult activity in recent weeks and would appear to be a forward operating base for a number of cultist troops. Perhaps a reconnaissance-in-force at this location will provide Athena with the intelligence she needs to uncover the cult's agenda and the identity of its mysterious backers.
Within a few hours Athena and a small cadre of Storm Troopers have landed planetside and made their way to the rendezvous location…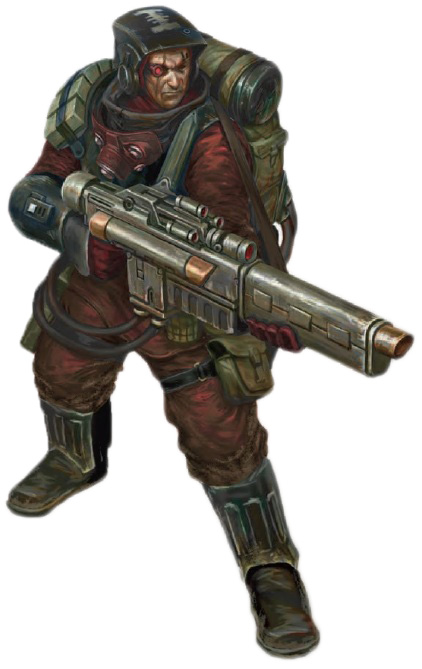 As Athena's force arrives at the rendezvous point it becomes clear that things are not going as well as hoped; the area is crawling with cultist agents and the Inquisitor's operative appears to be caught up in a gunfight that he has absolutely no hope of winning without further support. At first glance the cultists appear to be normal humans with no outward signs of Chaos mutation or Xenos infection, but looks can be deceiving and Athena knows that she needs to dig deeper in order to ascertain the root of this infection. She quickly surveys the battlefield and identifies two potential options that could further her investigation.
Firstly the cultists appear to be well-led and well-drilled, this kind of military efficiency inevitably belies the presence of a distinct command element operating nearby…If she could capture or kill one of these commanders then maybe she could exploit them (or their corpse) for clues… the only trouble she faces is driving them into the open long enough to be identified and interdicted.
The second option involves accessing one of the multiple computer terminals that the cultists seem to have littered around their makeshift camp. It is possible that these terminals possess further information as to the origins of the cult and more importantly … the organisation's headquarters. If their database could be downloaded then tech-savants aboard her ship might be able to retrieve some of this data.
Additionally Athena has a choice, does she abandon her operative to his fate and focus on achieving her mission, or does she expend further time and effort rescuing her man before he is
scythed down by the foe, potentially jeopardising her main objectives. She knows the mission should come first, but she is quite attached to this operator who has served her faithfully for many years and who represents a rather large investment in time, money and training…
The derelict monastery is being used as a forward operating base for what appears to be a well-organised military force, as such some supplies are littered around the battlefield. If the Imperials can raid these (by moving within 1 inch) they might be able to salvage some extra kit to aid their mission. Athena will have to consider whether time spent raiding these caches would better spent just sprinting for the target location.
These consist of Inquisitor Athena, Inquisitorial Operative XV-98 and the respective Storm Trooper squads. Profiles are as follows:
Equipment: Lasgun, Las Pistol and Knife
Inquisitor Athena (Randomly generated in previous scenario)
Equipment: Plasma Pistol, Bolt Pistol, Power Maul (Axe)
Psyker – Level 4 Mastery: 40 Psi Points
۝ ۝ ۝ ۝ ۝ ۝ ۝ ۝ ۝ ۝
۝ ۝ ۝ ۝ ۝ ۝ ۝ ۝ ۝ ۝
۝ ۝ ۝ ۝ ۝ ۝ ۝ ۝ ۝ ۝ ۝ ۝ ۝ ۝ ۝ ۝ ۝ ۝ ۝ ۝
Hammerhand - Level 1 Ability (2 Psi-Points)
Aura of Resistance – Level 1 Abillity (2 Psi Points)
Mental Bolt – Level 2 Ability (4 Psi Points)
Change Allegiance - Level 4 Ability (8 Psi Points)
Inquisitorial Operative XV-98 (Marine Major Hero)
Equipment: Bolt gun x 2, Power Sword
The Storm Troopers are organised into three five man squads.
Carapace Armour
is a highly protective suit of interlinked ablative plates designed to provide protection from both solid and energy based weapons. It offers a basic saving throw of a 4, 5 or 6 on a D6. However this type of armour is fairly cumbersome and as such the wearer incurs a half inch movement penalty (shown on profile).
Lasgun:
Lasguns are fairly low-powered weapons but they are popular with all military forces because they are easy to maintain and cheap to manufacture.

















Laspistol:
These are short compact pistols that utilise the same type of technology found within the ubiquitous lasgun. Whilst not overly-powerful compared to other weapons of their size these weapons are cheap and readily available on all but the most backward planets.














Bolt Gun:
The bolt gun or bolter fires small bolts which are loaded with armour piercing explosive tips. They are popular with pirates and criminals as they make a loud and suitably satisfying noise. Given their added stopping power they are also the standard armament of most Space Marines.

















Bolt Pistol:
These are smaller more compact versions of the bolt pistol and find favour among the same sort of characters, an opponent carrying one of these means business!














Plasma Pistol:
This is a pistol version of the larger plasma gun. Like its larger counterpart the weapon uses vast amounts of energy and needs to be recharged for one turn after it is used. Once fired it cannot be used until the firer's turn after next.








Power Axe/Maul:
These weapons represent a large axe or maul and have a massive amount of energy vibrating through them at high frequency allowing it to negate even the heaviest armour.




















Power Sword:
A power sword consists of a powerful energy field surrounding a long thin blade. They are activated when drawn from their sheaths which often look like normal sword scabbards.




















At the start of the game Inquisitor Athena and her troops have just entered the battlefield from the far side of the monastery's grounds whilst Operative XV-98 is some distance away pinned down by enemy fire; there is a degree of intervening terrain between them as well as assorted cultists moving around the ruins.
Your objectives are as follows:
Your Primary Objective is to kill or capture an enemy commander, troops will need to get within one inch of the felled officer for one full turn and pass a leadership test to extract any valuable information. Alternatively accessing one of the terminals by passing an intelligence test may also provide useful data for further extrapolation.
The secondary objective is to try and save Inquisitorial Operative XV-98 from his current predicament, once rescued he will join the Inquisitor's party where he can use his considerable skills to aid her main effort.
--------------------------------------------------------------------------------------------------------------------------
As you can see the stage is set for what promises to be an epic confrontation between Inquisitor Athena and this insidious new menace. Already there are a number of choices to be made before the first die is rolled....will the noble Inquisitor split her forces to rescue Operative XV-98 or will she leave him to his fate in order to concentrate on her main mission? Will she raid the assorted supply dumps scattered around the monastery in order to aid her efforts or will she try and make do with her unit's own organic kit?
Well you'll have to wait and see what her plan was and more importantly how successful it was in my next post when I'll be covering the battle in detail!
(As an aside if anyone out there wants to use my scenario above then feel free, it already has everything you need to get a game under way!)